Previously I'd written about a secret we attended after our Swan Princesses meetup. I'd been hoping to get the professional photos sooner, but since they have yet to deliver, I just use my own! We attended a Lolita wedding!
The entire wedding planning process was extremely time consuming as the bride, Kamiko, did much of the designing herself.
About a year before he original wedding date in November, she started making polls for the invitations to see which designs people liked better. The winning result (with Eevee covering their names) was this splendid creation:
Front
Back
While the ending result was stunning, it took a lot of work on her part. Apart from all this designing, she also had to find a factory to print and cut them for her. One factory even took her design and added it to their "examples of past work." And no, that was not the factory that ended up getting the job done.
When their wedding date was pushed up to June, suddenly they lost three and a half months' of working time and had to make sure everything was posted on time for the recipients to respond to. Having previously held a birthday event where the invitations arrived AFTER the event, I knew what a disaster it could be. Though it wasn't that important as I'd ordered the birthday package simply because it was cheaper than individually buying tickets and wands for MagiQuest (located at the Mall of America at the time), but I digress.
Apart form the hassle of designing and finding a printer on top of all the other responsibilities to cover before a wedding, the fact is that not all of us actually know how to design on a computer program in a format that the printer will accept.
So when the Community Manager with Anagram Interactive, Natalie, approached me to test out Paperless Post, of course the very first link I clicked on was the Wedding Invitations one as I thought of my friends right away!
I found the site pretty easy to use and you can get gold or silver foiling (same as seen above on the invitation)
Playing around with the fonts, designs, etc. I designed a fake invitation and was able to completely coordinate the envelope, envelope liner, background (if viewed on computer), invitation, and RSVP card!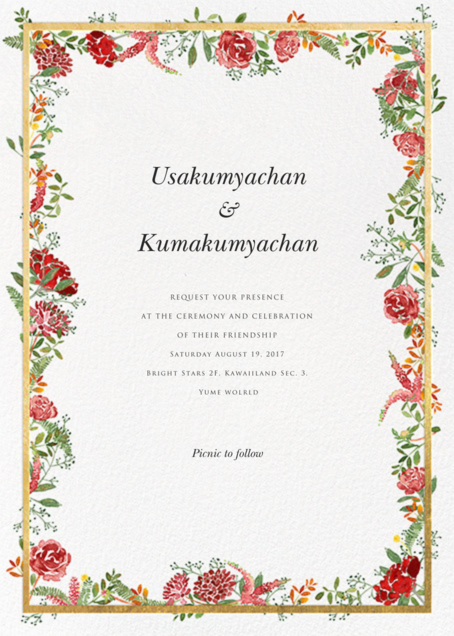 The digital invitation preview looks exactly the way I wanted it to, and only costs six coins each! The site reminds you to buy coins after you've completed your designs so you can get the package deal with the number of coins you need, rather than buying too many and not knowing what to do with the rest. This type of transparency is not apparent with all companies, so I felt this was a good sign.
Usually would have the guest's name and an RSVP
Using digital cards and envelopes also saves on our limited earth supplies and energy used in recycling. However, if you truly wish to go old-school and get paper invites, you can also purchase the card-set in its physical form as well, for a price.

Once sent, you can follow-up on your guests' status on the tracking page, send reminders, send messages, or ask for RSVPs,
I sent a copy to myself and it's really nice how the envelope opens and the card slides out. After you choose whether to attend or not, you can leave a message for the host if they opened this option. The design I chose may seem "plain" but I like the simplicity of gold foil on white paper.
Can't choose between the designs? There are actually designers working with Paperless Post who can help! How luxe would it be to send out Vera Wang's invitations before you walk the isle in a Vera Wang dress?
The "not behind the scenes" photos will come when the photographer is finished sorting and editing them I suppose, but for now, I hope this is helpful for those of you who need cards for parties, holidays, even for businesses that would like to add the extra touch of flair for a company event.
Thank you for sticking around and reading!
(Note: I am not paid for this post, I was allowed to use the service free to play around. All opinions are my own and do not reflect the beliefs or practices of Paperless Post or Anagram Interactive)